If you order a product that is marked "ready to ship", your request will ship within 1 to 2 business days via USPS. Look for the ready to ship badge: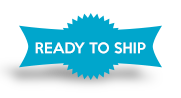 Custom made orders process longer. Unless otherwise directed, please allow up to 2 weeks to receive your order after you check out.
We ship all orders via USPS or FedEx. If you are located within the United States, you should receive your order within 2 weeks. International orders take from 4 to 6 weeks.
Yes! We would love to! Please contact us and let us know the name(s) of your child(ren).
Yes! We love participating in this activity. We have successfully handled book donations for various causes such as schools, libraries, the Wounded Warrior Project, Laura's House, Human Options, homeless shelters and more.  We also respect the wishes of the donor if they chose to be identified or remain anonymous. Simply contact us and we will arrange it for you.